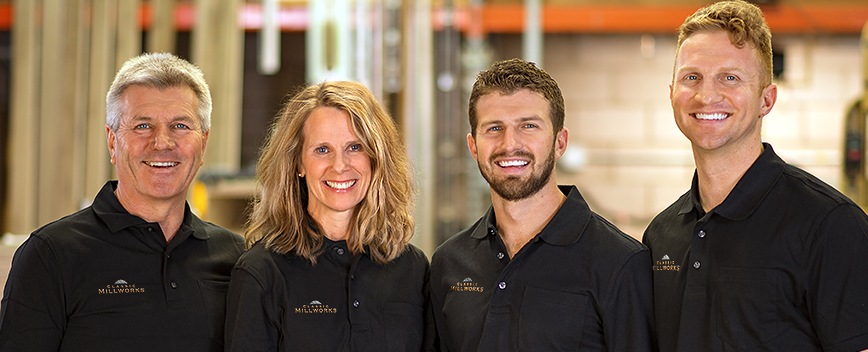 Classic Millworks was founded in 1986. We work with companies and contractors throughout the United States and bring more than 3 decades of custom mill work experience to each project we produce. We're committed to creating the finest quality stair treads, countertops and flooring components available. We build things the right way, the first time. We also come up with innovative solutions to fit your custom projects like a glove. Our track record for satisfied clients is second to none. We look forward to working with you and including you in our list of satisfied clients.
What we do
We are the industry experts at using engineered flooring to create custom staircases, which guarantees a perfect match. We have a solid reputation for helping contractors solve complicated installation issues and manufacturing design flaws. The trouble-shooting we've provided has saved contractor's time, money and their reputation. With our depth of experience we can help you design and build a custom staircase that exceeds all expectations.
Our team
Michael Zembsch' Owner
In 1978 Michael Zembsch apprenticed as a pipe organ specialist and rebuilt some of the finest organs in the United States with William P. Brown Corporation. After a decade of experience of rebuilding pipe organs, he developed a passion for custom wood working and purchased Classic Millworks in 1986. He then guided the company's focus and passion to building hand-crafted custom staircases for residential and commercial buildings. Mike works very closely with contractors, architects, and interior designers to ensure the customers' satisfaction. Due to his strong work ethic and extensive experience, Mike's craftsmanship on the finished product is truly exceptional.
Gil Zembsch'  Craftsman
Gil, Michael and Marilyn's oldest son, is a skilled craftsman. Honing his skills since 2001, Gil honors the craftsmanship of each project through his patient, yet regimented focus and attention to detail. His personal commitment to 'craft with care' results in an extraordinary product for each customer.
Ben Zembsch' Craftsman
Ben, the youngest of the Zembsch family contributes a forward-thinking and relationship building approach to the business. He dedicates his energy to discovering innovative ways to improve the craftsmanship and customer experience. Ben's sensitivity to a clients' wants and needs allow him to discern and ultimately help manifest their vision.
Marilyn Zembsch
Marilyn came on board in 2016, making the family aspect of the business complete. Her
expertise in organization and management stemming from her 23 year career in title
and escrow greatly contributes to the quality of our customers' experiences. From
communicating directly with customers to supporting the team in the shop, Marilyn is the
glue in this family business.